Below Luck Level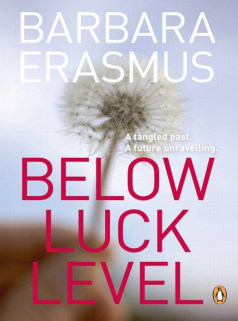 Chloe Cartwright is an eccentric yet brilliant prize-winning writer, who has always been more focused on political causes than providing a wholesome meal for her family. Her daughter, Hannah, has never been much good at anything – other than shoplifting, that is. Hannah lacks direction and scrambles through life, before falling, almost by chance, into a successful career as partner to one of Cape Town's most sucessful chefs. Life is loooking good – until Chloe's behaviour becomes even more irrational than usual…
Is Hannah imagining it? Or is something terribly wrong?
Delightfully readable and powerfully moving, Below Luck Level is the story of a daughter's relationship with her mother and the unexpected challenges of caring for a parent with Alzheimer's.
.
"A literate, witty and empathetic writer." William Saunderson-Meyer. The Weekender.
'Below Luck Level is brilliantly written with emotional depth and will help bring a deeper awareness and understanding of Alzheimer's and dementia to its readers.'
Karen Borochowitz
Executive Director, Dementia SA
www.dementiasa.org
Below Luck Level is an exceptional book! Beautifully written and crafted, telling a sad story with delightful charm and wit.
Professor Sean Davison
Professor Sean Davison is Head of the Forensic DNA Laboratory, Department of Biotechnology at the University of the Western Cape. [seandavison1@gmail.com]. In 2009, Davison wrote Before We Say Goodbye, which describes the last three months he spent with his terminally ill mother. The manuscript revealed that, at the request of his mother, a medical doctor, he gave her crushed morphine tablets in a glass of water. He was arrested and went on trial for attempted murder. During his high court trial he was offered a lesser charge of assisted suicide to which he pleaded guilty and was ordered to serve a five month house arrest sentence in Dunedin, New Zealand. The Davison's trial ignited debate on voluntary euthanasia.
You would think that a book about Alzheimer's would be all doom and gloom but below Luck level is not and it's hard to believe that it is fiction, so real are the characters. Erasmus has a light, engaging style and she tells the story in a way that will have you laughing and crying, sometimes at the same time. Erasmus, who writes with empathy has described how Alzheimer's affects everybody, not only the victim of the disease. Highly recommended.
Brian Joss
Cape Community Newspapers, Cape Town
Harrowing and intensely sad, but Erasmus structures her novel so cleverly and has such a lively, witty style that you never feel bogged down by its central Alzheimer's feel. This is one of those rare books that will make you laugh and cry. Highly recommended.
Jane Vorster
You Magazine
It's curious how the gravity of serious subjects can best be expressed through humour. Comedy humanises: the light touch gives weight. Erasmus has used it to great effect in this tragic story of a family's battle to come to terms with early-onset, and ultimately fatal, Alzheimer's. She has achieved something remarkable.
Aly Verbaan
Cape Times
There are passages in this book which will move you to tears but there are also many that will provoke laughter. And Erasmus's elegant and skilled writing hooks you in from page one – there is a cracking good opening line. The pace is beautifully controlled; there is no wallowing in horrors, though horrors are present. Barbara Erasmus has achieved something remarkable here.
bookslive.co.za/…/margaret-von-klemperer-reviews-below-luck-level-by- barbara-erasmus/
Margaret Van Klemperer
The Witness
Published by Penguin, May 2012
.
.
~ ~ ~ ~ ~
Kaleidoscope
They think I'm perfect when they see me. I cry on cue. I move my arm and legs. My fingers and my toes both add up to ten. Their specialists tick all the columns on their rating scale. They won't find out. None of the tests they run will show my secret. My subtle imperfection will complicate the lives of everyone who loves me.
Kaleidoscope describes the impact of an autistic child on the already stressed relationship between two very different sister. Claire's an actuary. Kate's an actor. Each is secretly resentful of what the other has achieved. It takes the birth of a complicated baby to show them what they have in common.
EAN: 9780143024484
Purchase Now
KALEIDOSCOPE: REVIEWS
I was, quite simply, blown away by the magical quality of this book. Erasmus combines an uncompromising audit of emotion with a lyricism that she wields like a knife.
This book is an absolute dream and should not be missed.
Jen Crocker
Cape Times
Kaleidoscope is one of the most powerful and absorbing South African novels I have read this year.Julia Paterson
Citizen
Barbara Erasmus's Kaleidoscope is an insightful family drama anchored by a girl toddler's autism. The Johannesburg setting, the use of familiar events and signifiers, such as known newspapers gives the novel an authentic feeling. The message is a universal lesson of difference and weakness can become a source of power that influences the course of people's lives. The compartmentalized narrative clearly depicts a contemporary South African situation but for a change, the differences that are depicted aren't because of race or gender; and money and
success do not create social acceptance like in many conventional stories. The reader is guided with great lucidity into the workings of an autistic mind.
Fumani Diseko
Mail&Guardian, Winter Reading Supplement
Barbara Erasmus has written an absorbing novel, which deals with a serious subject without losing sight of the fact that a novel must be essentially entertaining. She creates the sisters with a believable dexterity and their behaviour at opposite ends of the emotional spectrum is very intriguing. Amy's presence is felt throughout the beginning of the novel and it is only once halfway through it, that one finds out what is so special about her. There are a few moments in the middle of the story where the factual details about the child's condition threaten to topple the novel into a case study but these are short-lived. The central dynamic of the novel is believable and compelling. The added facts that one learns about autism and Asperger's Syndrome are finally a bonus.
Janet Van Eeden
The Witness
Kaleidoscope steers clear of the story that has become the norm in South Africa – apartheid – and takes an intense peak into a family which is turned up, down and all around when a new member joins it. The newcomer unknowingly pulls the estranged family's strings together. She doesn't know it but she is what brings them together and at the same time, tears them apart. This is an important book as it talks about the effect autism has on a family. Kaleidoscope is a welcome change as a story that is proudly South African and yet tackles something other than racism and apartheid.
Hannah Wanjelani
Pretoria News
Fine powers of observation, sensitive and accurate – a poignant account of autism and Aperger's syndrome.
Dr. C. Lombard,Psychologist, Unica School for Learners with Autism, Pretoria
Autism is an extremely complex disorder that is rarely understood unless people have been exposed to its victims or have done a vast amount of research. On reading Kaleidoscope, I was quite amazed at the incredible insight Erasmus has developed concerning the minds of people with Asperger's Syndrome. I believe Kaleidoscope will make a truly significant difference as regards society's awareness and understanding of Asperger Syndrome.
Jill Stacey .National Convenor; Autism South Africa
Kaleidoscope is an insightful and touching book – not just about an autistic child but all the people around her as well. Autism doesn't just affect the child himself or herself but influences and touches all those around him or her in difficult and profound ways which are captured in this book and I am complimented to have been part of its genesis. Savant skills mystify and intrigue us when we encounter them because they at the same time both jarring in their spectacularness and beauty as well as jarring to the way we ordinarily think about ourselves and our capabilities. The text paints a complex and intricate picture of both autism and savant skills – a kaleidoscope picture which changes as the autistic savant moves along the life spectrum.
Darold Treffert
Author of Extraordinary People – An Exploration of the Savant Syndrome
Erasmus hou regdeur die verhaaal 'n saaklike stelwyse vol wat die leser boei en meesleur. Na Raaselkind is die klimaks van die roman terselfdertyd iewat van 'n teleurstelling en 'n onderbeklemtoonde triomf. Vir die leser wat William Faulkner se The sound and the fury moelik vind, behoort Kaleidoscope 'n paar nuttige ure te besorg.
Beeld
Kaleidoscope holds a very important but difficult message, artfully delivered and engagingly told. Every parent with a special needs child should read this – there is so much here that will be comforting.
Don Tubesing
President, Publishers Marketing Association (www.pma-online.org)
Erasmus has not only written a book as page-turning as any thriller, she has graced it with lyrical writng and thorough but unobtrusive and fascinating research. I started it a 11.00 am one day, planning to read a chapter or two and by 4.00pm the same day had finished it. With sympathy but without sentimentality, Erasmus shows the effect autism has not only on the autistic child but on her family – good effects and bad effects but always believable effects.
Vicky Canning
Sandton Literary Agency
~ ~ ~ ~ ~
Even with Insects
Even with insects is about choice – random decisions that determine the path life will follow.
It's set in scenic Cape Town in the new post-election South Africa, a country in a state of transformation. Retrenchment, affirmative action, technological change, AIDS and emigration are some of the issues that complicate the life of three close friends – an insect trio, linked by their discordant proportions.
Ann is too tall – a lanky, mosquito of a girl. She's a successful journalist with a high tech husband. Sophie is too fat – a bee of royal proportions. She's a strong soprano and follows a career in music. Jacqueline is too small – the fine-boned, sensual firefly of the team. She holds a masters degree in social anthropology and dabbles with sangomas and holistic healing. Their career choices lead them to the eastern and western corners of the globe.
The story chronicles the evolution of their careers and lifestyles as they move through an insect cycle of metamorphosis to migration, reproduction and perhaps – extinction.
EAN: 9780143024859
Purchase now
EVEN WITH INSECTS: REVIEWS
Seldom have I come across a book that weaves the immediate magic of this one. Beneath the surface humour are currents and depths that touch the angst or half-hidden fears of many South Africans. The tone, extremely funny in places, foreshadows later events that are tragic .The author seems to suggest that life is a gift, precious, complex, often sad, and always unpredictable.
An extraordinary feature of this book is a compelling honesty that has an almost visceral effect. It touches on issues like affirmative action and the unfair retrenchment of talented individuals, on crime, on family relationships, on AIDS and emigration, in fact on all the components that make up the new South Africa. In addition there are fascinating snippets of new age philosophy, alternative medicine, and anthropological research. Underlying the facetious tone is a compelling honesty, a willingness to face emotions, especially guilt and grief. So powerfully do these aspects come across that one feels they spring directly from the author's heart and are not simply an artificial construct. Ann's feelings about betraying her husband and grief for the death of her son, understated as they are, create a new synthesis of reality. It is not in Coleridge's phrase, "the willing suspension of disbelief" but rather a sudden impact of poetic truth. "even with insects" is truly a remarkable book.
Dr. Michael Hurry
Sunday Independent
Even with Insects by Barbara Erasmus was a joyous read. This is a wonderful story with a powerful and delicious message about life It has a 'Sex and the City' feel about it, with the main relationships centering on best girlfriends, and the love and support they provide for each other. There is also a tender undertone to the story that explores change, desire and regret. Any woman who has grown up in the suburbs of Cape Town, in both the old and new South Africa, will recognise aspects of it. It was heartwarming to read a book set in a Town I know so well, and I felt an instant affection and identification with the characters. The book is also apolitical but socially aware, about characters and relationships, not just about the country. If you've ever walked through Cape Town on a warm summer's day, had a mother-in-law who reminded you of a Doberman, or drunk red wine into the night with your best friends, you will like this book. It had me roaring with laughter every few pages.
Nandi Roos
Cape Times
A wicked sense of humour ensures that Barbara Erasmus pulls off her new book with flair. It follows the lives of three friends whose lives are complicated by random decisions that determine their life paths. The major issues are very relevant to society today such as suicide, losing a child, AIDS, infertility, infidelity and social standing.Mostly depressing topics, yes, but Erasmus carries them off with panache.
Alison Marshall
Citizen
~ ~ ~ ~ ~
Chameleon is a story about the private face behind a public image. Leigh Franklin has it all – looks, brains and a marriage to one of Cape Town's most successful stockbrokers. Ever the perfect wife, she exchanges her own blossoming career as a forex and hedge fund trader to become the perfect mother to her adored daughter. She struggles to maintain her up-market profile as she is forced to face the consequences of both white-collar crime and an unwanted pregnancy.
EAN: 9780620403979
Purchase now
CHAMELEON: REVIEWS
Chameleon has taken local crime writing into the corporate world of stockbrokers and insider trading. It's in a class of its own – a story that probes through the façade of the middleclass and the financially secure to reveal not only a bankruptcy but a carelessness that matches the brutality of any drug dealer Nobody dies in Chameleon but lifestyles are shattered as devastatingly as if there had been a killing.
Mike Nicol
Fine Music Radio
Barbara Erasmus writes with acute perception about human behaviour, dissecting the motivations of her characters with a surgeon's skill. This is a compelling novel keeping the reader intrigued as snippets of information are fed to lure one inevitably towards the surprising conclusion. Erasmus is a consummate story teller. Chameleon deserves to be widely read.
Janet Van Eeden
LitNet
Erasmus is a literate, witty and empathetic writer but it is easy to understand why Chameleon might have struggled to find a conventional crime fiction publisher.
These publishers want their books to fall into simple, clearly defined areas of reader preference: forensic, psychological, police procedural. Chameleon, in contrast, is a nuanced look at crime and punishment in an almost Dostoyevskian sense, rather than providing the quick thrills most adrenaline-addicted crime junkies will be looking for.
The narrator tells a simple tale of how her Cape Town stockbroker husband ends up in Pollsmoor Prison because of a series of financial shenanigans, archetypal "victimless" crimes because no one is really disadvantaged. Erasmus, however, sketches convincingly a swath of destruction after this particular crime that goes beyond a mere ripple in the proverbially amorphous financial markets.
William Saunderson-Meyer
The Weekender
Chameleon is a fascinating and intriguing read. Erasmus seems to have an unusual insight into how people behave and, layer by layer, she peels the skin off her characters to show the reader what's underneath. The words and phrases that Erasmus uses so skillfully also have a disquieting undertone, which adds to the tension of this intelligently written thriller.
Brian Joss
Independent Newspapers Onlin